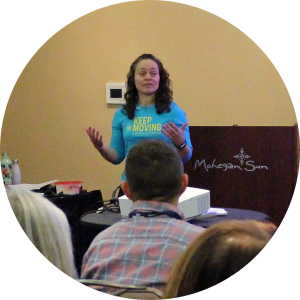 Meet Maggie Downie
Author of Keep Moving: Take Steps to Relieve Pain & Improve Your Life
Founder of Personal Euphoria, a Fitness and Wellness Company
Featured Guest on NPR, Better CT and NBC CT Live
Inspirational & Motivational Keynote Speaker
"I've never left a presentation and felt that I could instantly apply what I learned. That is until Maggies'."
-Scott Bushey, Wesleyan University
"I've never left a presentation and felt that I could instantly apply what I learned. That is until Maggies'."
-Scott Bushey, Wesleyan University
Reducing Pain Through Movement
Maggie loves translating information about movement and the body in ways that makes people care and encourages people to feel motivated toward wellness. Her infectious enthusiasm creates fascination for fascia, your stabilizer muscles, and even learning what a sea squirt has to do with your body.
Maggie Downie is the founder of Personal Euphoria, a fitness and wellness company, where she has been encouraging clients to move and reduce pain since 2005. She has worked with injured clients in group setting and one on one. She co-founded PEEPs in Motion, which offers online fitness programming and Workshops for Wellness—designed to keep people moving and reduce pain.
She has been a guest on NPR, Better CT, and appears monthly on NBC CT Live. She has been published by IDEA Fitness Magazine and the Christian Science Monitor.
Featured Media Appearances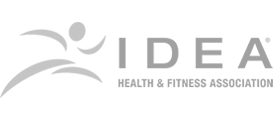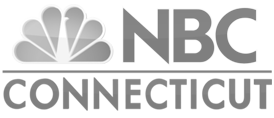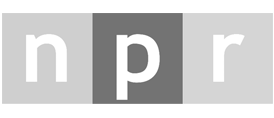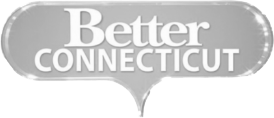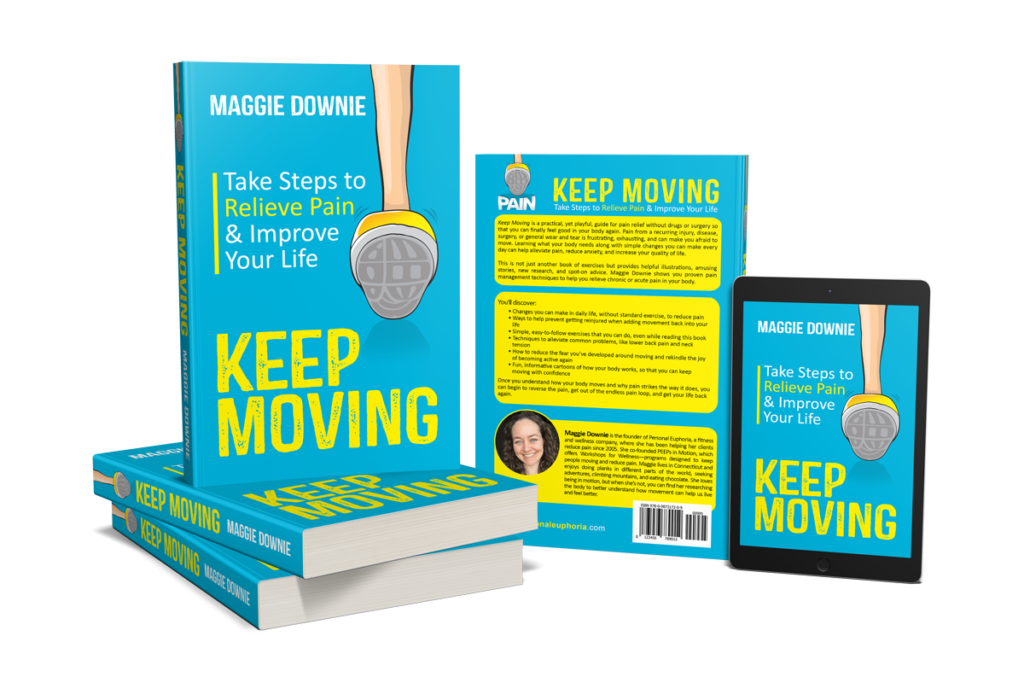 Amazon Best Selling Author
Upon publication, her book Keep Moving: Take Steps to Relieve Pain & Improve Your Life made the Amazon best seller list in multiple categories including Aging, Exercise & Fitness, Pain Management, Alternative Medicine, and Healthy Living. Doctors, physical therapist, corporations, educators, parks and recreation departments, and people in pain can benefit from her topics related to current research on movement and pain theory. She combines research with practical tools she has used with clients to help people reduce pain through movement.
A Viral Quest
Maggie loves being in motion, but when she's not, you can find her researching the body to better understand how movement can help us live and feel better. She lives in Connecticut and enjoys doing planks while seeking adventures in different parts of the world, climbing mountains, and eating chocolate. Her own "addiction" to movement sometimes goes viral—you may have seen or read about her stained glass igloo on the news, her viral swimming in Jell-O video, racing on non-Newtonian fluid, or maybe you read about her challenges hiking Mt. Kilimanjaro. If not book a talk now. Maggie's quest is to make movement fun for everyone she meets.